Training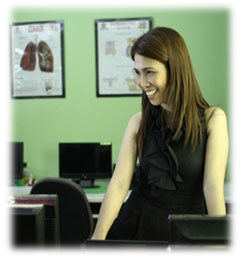 Are you starting out or are you looking for a career change?

Get trained by industry experts and be a MEDICAL TRANSCRIPTIONIST/MEDICAL LANGUAGE SPECIALIST in 1-3 months.
WHY TRAIN WITH STU?

1. We KNOW what you NEED to know. We transcribe medical reports everyday and we have over 20 years of expertise in the Medical Transcription industry.

2. All our trainees are GUARANTEED on-the-job opportunity in our PRODUCTION DEPARTMENT.

3. Due to our ongoing company GROWTH, our graduates ACCEPT transcription positions with us.
Career Opportunities

We usually have openings for the following:
• Medical Transcription Trainees
• Medical Transcriptionists/Editors
• SRT Editors/Proofreaders
• Medical Coders
• General, Legal and Business Transcriptionists
• Deposition Summarizers
• Call Center Agents (CSR, TSR, Outbound Sales, Lead Generation, Business Process Associate)
• Data Entry Operators
• Technical Assistants

WHY JOIN STU?
• EXPERTISE. Over 20 years in the MT industry.
• SENSE OF BELONGING. From day 1, you will be part of a caring team.
• CAREER PATH. We are not only your employer, we are also your career manager.

Email your resume to jobs@southtranscription.com or leave us a message at the Contact page.